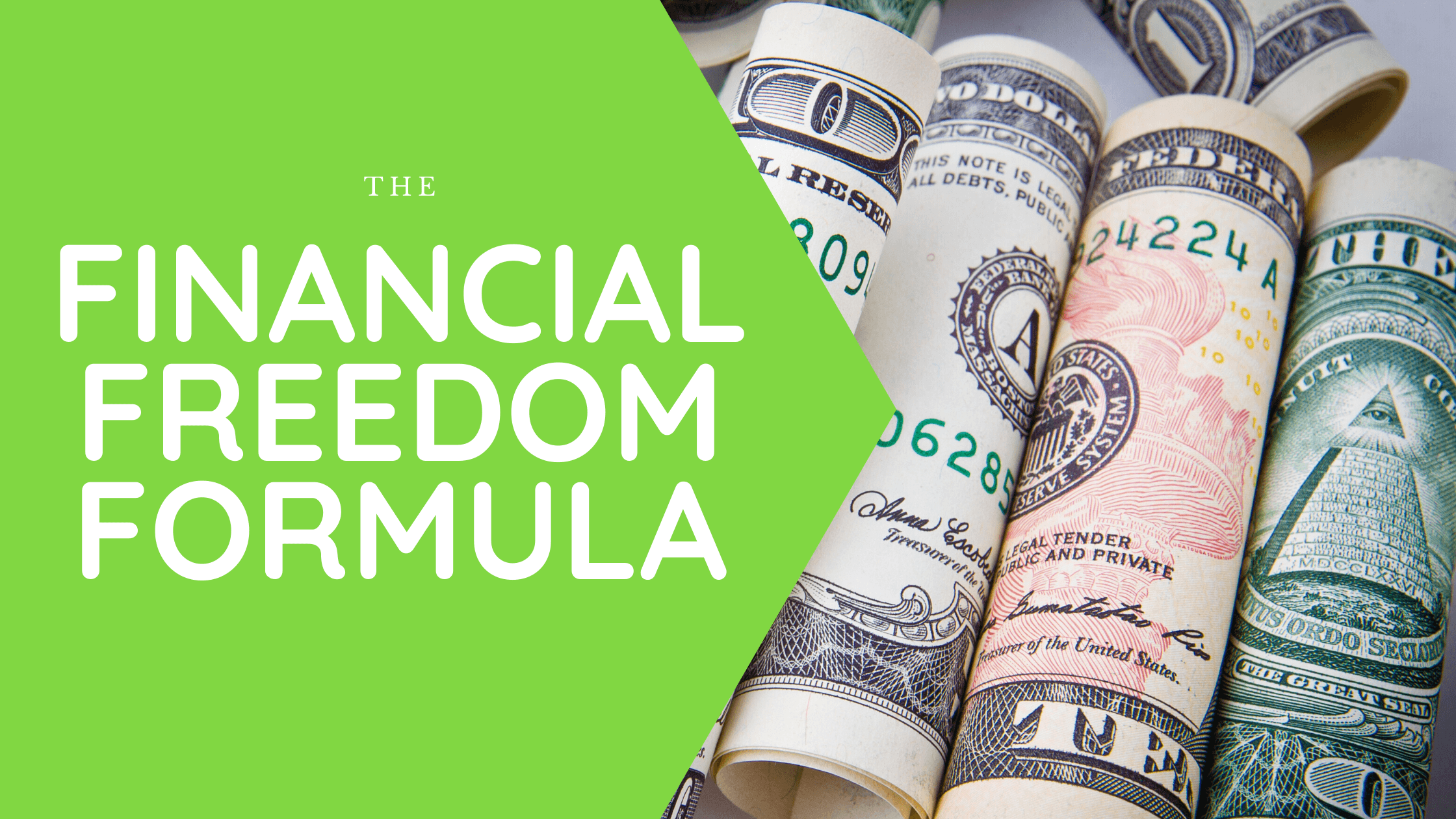 This website is dedicated to helping people break free of financial victim hood and start creating a financial destiny to be proud of. And a big foundation to that process is understanding financial freedom and what it is.
Now, whilst the definition of financial freedom is somewhat widely agreed upon, the financial freedom formula that I am going to dive into here is my own brain-child and what I've developed over the years.
This formula won't be found in an Encyclopedia (showing my age here) nor will you find the exact same thing when you Google it. Financial Freedom is an outcome, but the journey there can be done in various ways – this formula is my preferred approach and one that I've seen work for many, many others.
What is Financial Freedom?
Financial Freedom is when you no longer have to work in order to live, and your passive income is capable of paying for your current (or desired) lifestyle.

You can essentially sit on a beach, drinking Margaritas (assuming the cost is included in your lifestyle budget) and could carry on as such indefinitely.
How Do I Calculate My Financial Freedom Number?
If you're looking to become financially free as soon as possible, then the number you need to think about is the absolute minimum you'd require to live your current life. If possible, get rid of some frivolous expenses. The lower the number required for you to live, the quicker financial freedom can be obtained.
However, essentially your financial freedom number will flex between this and a higher value that includes added comforts and luxuries.
Write this number down. Incorporate it into your goals (I hope you're writing down your goals).
My Financial Freedom Formula
The below diagram illustrates the 3-key components of Financial Freedom.


Earn More
Well, not very profound this one may seem! Though some analysts out there will be noting that financial freedom is achieved from predominantly passive income sources, so earning more seems counter-intuitive?
Remember, this is a process, a road map. By being able to earn more income, you can then put the extra money to work for you – which is what the two other sections are about.
The best way to earn more? You could upskill for your current employment but that means working in a job for longer, with less flexibility. The real way to earn more whilst moving quickly towards financial freedom is to start your own side hustle (side business). This is where online businesses come to the party as a lot of them offer much greater flexibility and some have relatively small barriers to entry.
The key aspect of financial freedom is passive income, and this comes predominantly from Investments (see below), but it can also come from low activity forms of other income – and this is where your online business can contribute valuably to your financial freedom.
Additionally, if you can set up adequate online businesses that produces a decent income with less and less work going forward, this becomes akin to a passive income.
Invest More
Investments produce passive income. You make your money work for you. These can take many forms, but for passive income to contribute towards your financial freedom, you want assets and investments that cash flow well. Things like dividend yielding stocks, real estate and property, peer to peer lending (as a lender).
In the beginning it could likely be challenging finding additional money for investment purposes, however every little counts. Start with as little as $10/£10 per month and put it into a mutual fund (e.g. S&P500). Once you've started the habit, half the battle is already won. Then you can start looking into other forms of investment and learning which forms of investment suit your preferred financial freedom strategy.
There are varying schools of thought out there around how to balance investing and debt repayment, as some may say that the additional $10/£10 is better used for paying down debt, but let's discuss that next.
Eliminate Debt
Debt is a silent financial cancer and left unchecked, can ravage your finances. Now not all debt is bad – some debt used constructively is fine (e.g. mortgages on real estate investments that generate a profit).
The corrupting debt I'm referring to is consumer debt. Credit cards, personal loans, payday loans, store cards and the like.
And don't' forget that debt is a double-edged sword, not only do you need to repay what you've borrowed, its evil entourage called "interest" is never far behind.
Did you know that just paying the minimum amount on your credit card means you could be paying it off for up to 20 YEARS? Minimum payments are traps to keep you in debt and paying interest to the card providers.
Always start with the most expensive debt first (highest rate of interest) and put whatever extra you can afford into paying an additional amount off.
In my example under "Invest More" above, if all you could spare every month is $10/£10, then you could split 50% into investment and 50% into over payments on your debt.
This is the approach I would suggest you take, as it's always good to get some investments going sooner rather than later.
The only caveat I have, is that if you have a lot of expensive debt, you might be better served paying this down first, especially if the interest you're paying is higher than the average rate of return on your investments.
Final Thoughts
The above structure works, but some people may find it more difficult if they're in a position where the costs of living are already exhausting their financial means every month. I will be doing a post on this in the near future, so if you think this will benefit you, please subscribe.
This is why I've included the "Earn More" element, rather than trying to make the formula work on just your current earnings. Yes, it can still be done that way, it's more difficult and sacrifices will need to be made, but it's possible if you're dedicated.
However, the focus of this site is also to open people's eyes to the opportunities that are out there and available to everyone, regardless of your background, education or past. Which is why I actively promote looking at alternative means of generating an income to either supplement, or preferably replace, your current salaried earnings. Besides, chances are if you weren't looking for ways of generating additional income online, you wouldn't even be here.
I want you to thrive, rather than just survive.